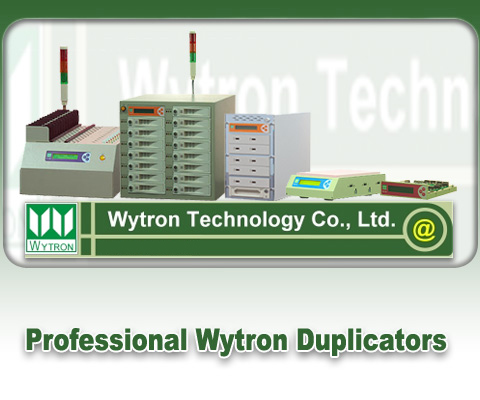 Wytron offers professional equipment for Blu-ray-DVD-CD duplicators, Hard Drive duplicators, Memory Card duplicators, and Controllers. Duplicators are engineered for optimal performance with intuitive operations. There are variety of options for your production demands and meeting your bottom line. Wyton products are distributed by PDE Technology Corp. in the Americas.
Blu-ray | DVD | CD Duplicators
Hard Drive Duplicators
Professional duplicators for Blu-ray, DVD, and CD. Copying from master disc or hard drive. Supporting all formats:
Hard drive duplicators are available in variety of options to meet your production demands. These are reliable fast duplicators/copiers/cloners with SAS, Ultra High Speed SATA, and IDE optional.
Memory Card Duplicators
Controllers
High speed memory card duplicators for USB, SD, CF, and MMC from Wytron. Today's portable devices increasing in a rapid pace calls for higher demand in portable memory cards and Wytron offers solutions for customers.
Offering quality controllers for duplicators with 5, 10, and 12-Target options. Supporting Blu-ray, DVD, and CD including all formats. Wytron controllers uses the latest technology to provide the most accurate and reliable disc duplication.

^ Top